Luminar Neo – Photo editor powered by artificial intelligence
We will have automatic color correction, white balance and other specific adjustments in RAW photographs .
The new version will allow you to replace skies , improve portraits or customize landscapes using artificial intelligence, saving time.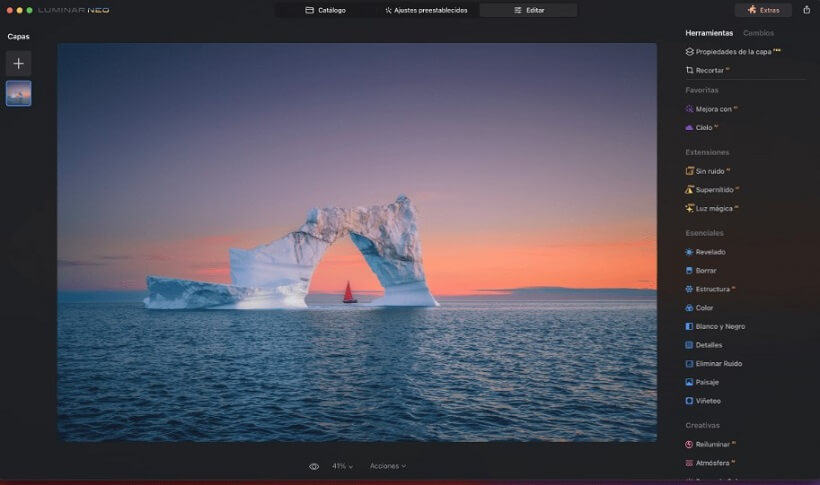 It has neural network recognition that can locate thousands of objects in the photograph and eliminate noise without leaving the image very smooth.
It also allows you to merge HDR images, enhance specific areas of the photo or match the lighting and colors of the sky .
The application also works with human faces, enhancing the eyes, lips, and teeth naturally and without looking too edited or artificial.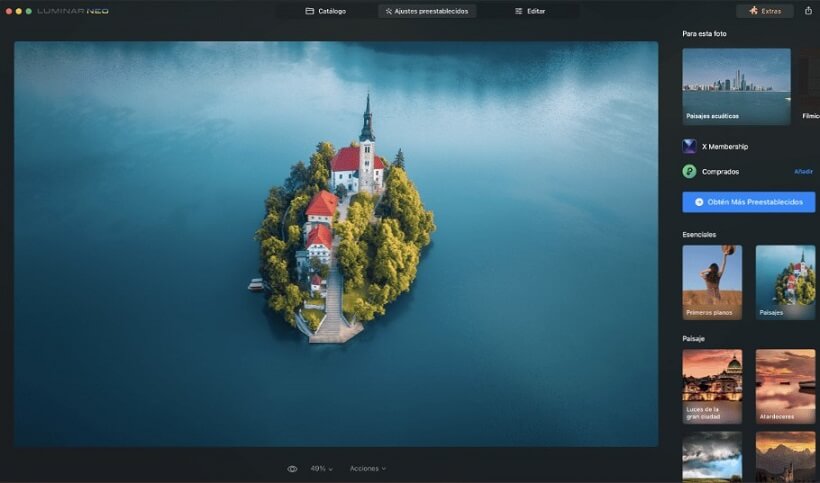 Luminar Neo 2023 Features:
Editing RAW files

Realistic atmospheric effects on images.

Improve details only in necessary areas

AI combines lighting and colors on the fly

Color enhancement by Artificial Intelligence

Lens Correction

Full control over color depth and balance

Control highlights, midtones and shadows

It works on faces, bodies, shapes and colors.

Improves faces naturally, lips, teeth, etc.

Natural lighting, giving more capabilities

Instantly eliminates blemishes and much more.
---
Opinion:
AI-Powered Photo Editing Revolution:
Luminar Neo 2023 emerges as a groundbreaking photo editor, leveraging the power of artificial intelligence to transform the editing landscape. With automatic color correction, white balance adjustments, and tailored enhancements for RAW photographs, the software streamlines the editing process, saving valuable time for photographers.
Sky Replacement and Landscape Customization:
The new version introduces features that resonate with creative minds, allowing users to effortlessly replace skies, enhance portraits, and customize landscapes using the prowess of artificial intelligence. This not only adds a layer of creativity to photo editing but also ensures a more efficient workflow.
Neural Network Recognition for Precision:
Luminar Neo's neural network recognition sets it apart by locating thousands of objects in a photograph and eliminating noise without sacrificing the image's natural texture. This precision ensures that the final result is not only visually appealing but also maintains the authenticity of the captured scene.
HDR Image Merging and Targeted Enhancements:
The capability to merge HDR images and enhance specific areas of a photo showcases the software's commitment to providing a comprehensive editing experience. Matching lighting and colors seamlessly with the sky further amplifies the tool's versatility.
Natural Face Enhancement:
The application's proficiency in working with human faces is notable. Enhancing eyes, lips, and teeth naturally without appearing overly edited or artificial is a testament to Luminar Neo's commitment to delivering realistic and authentic results.
Key Features of Luminar Neo 2023:
Editing RAW Files: Empowering photographers with the ability to edit RAW files directly.

Realistic Atmospheric Effects: Adding depth and realism to images with atmospheric effects.

Selective Detail Enhancement: Allowing users to enhance details only in necessary areas, providing precise control.

Dynamic AI Lighting and Color Combining: AI dynamically combines lighting and colors on the fly for a harmonious result.

Lens Correction: Addressing lens distortions and ensuring accurate representation.

Complete Color Control: Offering full control over color depth and balance.

Facial Enhancement: Works on faces, bodies, shapes, and colors, improving facial features naturally.

Instant Blemish Removal: Efficiently eliminates blemishes and imperfections, enhancing overall image quality.
Conclusion: Luminar Neo 2023 – A Photographer's AI Dream:
Luminar Neo 2023 emerges as a true game-changer in the realm of photo editing. Its seamless integration of artificial intelligence for various enhancements, from sky replacement to facial retouching, sets it apart as a versatile and powerful tool. With an array of features catering to both creative and technical needs, Luminar Neo 2023 stands as a testament to the future of intelligent photo editing. Photographers, from enthusiasts to professionals, are in for a transformative experience with this innovative application.