GlassWire 2023 – Firewall, monitoring and security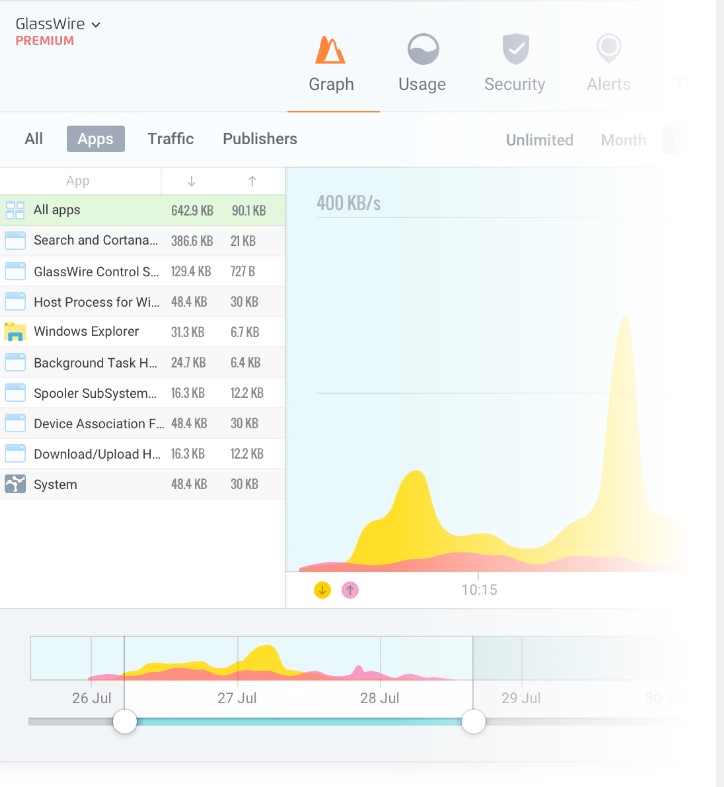 It has an excellent monitoring graph  with which you can see who or what is communicating with your computer both in the present and in the past. You will be able to detect spyware, malware and applications that do not behave well by wasting bandwidth and then block their activity.
Now monitoring your PC and receiving alerts if new unknown devices use your WIFI will be easier than ever.
Monitor your network data usage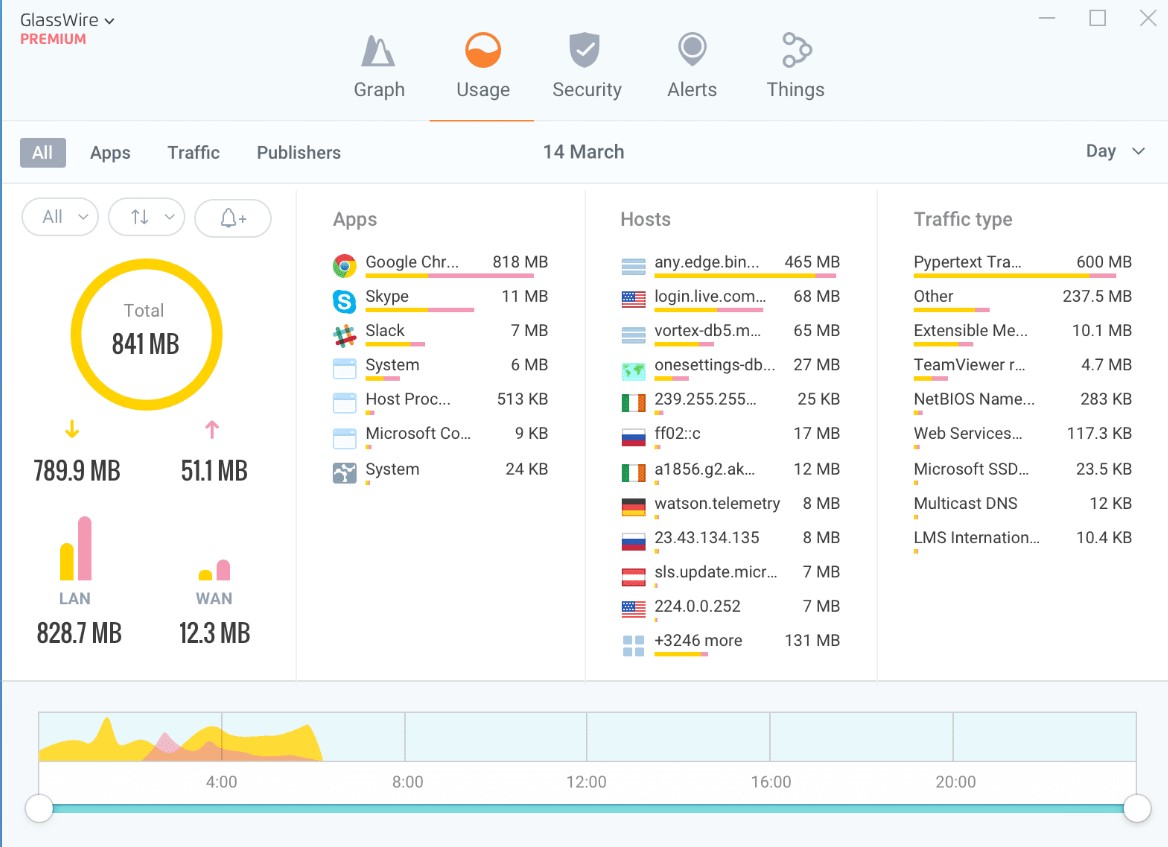 With the data tracking functions on your PC or mobile phone you will receive alerts before exceeding data limits and check what happens on your computer when you are away.
You will receive alerts whenever a new application tries to access and connect to your network and have the option to block it if you wish with the new GlassWire 2023.
You will have updated specific statistical data on network usage broken down by IP/Host, application, types of network traffic and much more.
Your new personal firewall software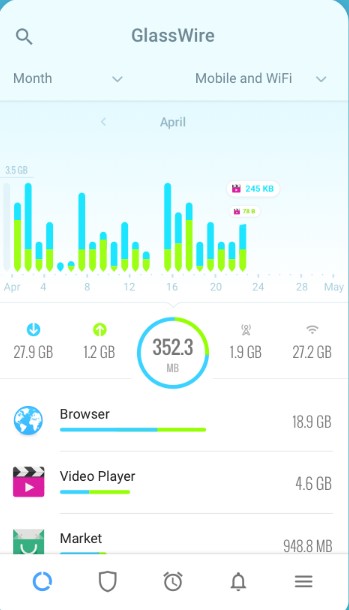 If you activate the "Request connection" mode you can allow or deny new application connections . Check and monitor which IP addresses your applications are currently connecting to and which countries those hosts are located in.
Customize your own firewall profile according to the situation and try the comprehensive GlassWire app for Android . 
In this way, we will have an access point on our Smartphone to monitor our entire network infrastructure.
In addition, we will have the ability to review usage statistics as well as review the bandwidth used by different applications.
---
Opinion:
GlassWire 2023 emerges as a robust solution for firewall management, monitoring, and security, providing users with comprehensive insights into their network activities. Let's delve into the key features:
1. Advanced Monitoring Graph:
Visualize real-time and historical network activities.
Identify potential threats such as spyware, malware, and bandwidth-hogging applications.
Block suspicious activities to enhance security.
Opinion: The monitoring graph empowers users to take control of their network security, making it easy to identify and neutralize potential threats promptly.
2. Network Data Usage Tracking:
Receive alerts before exceeding data limits.
Monitor PC or mobile network activities in real-time.
Detect and block new unknown devices accessing your WIFI.
Opinion: GlassWire's data tracking features not only prevent unwanted data overages but also provide a layer of security by identifying and blocking unauthorized devices on the network.
3. Personal Firewall Software:
Request connection mode for allowing or denying new application connections.
Monitor IP addresses that applications are connecting to and their geographical locations.
Create customizable firewall profiles for different situations.
Opinion: The firewall capabilities empower users to control which applications can access the network, offering a personalized and proactive approach to network security.
4. Mobile App Integration:
Access GlassWire functionality on your smartphone.
Monitor network infrastructure remotely.
Review usage statistics and bandwidth consumption by various applications.
Opinion: Extending GlassWire's functionality to mobile devices provides users with the flexibility to manage and monitor their network security from anywhere.
In Conclusion: GlassWire 2023 stands out as an intuitive and comprehensive network security solution. Its emphasis on user-friendly monitoring, data tracking, and firewall management caters to both novices and advanced users. By offering real-time insights and proactive security measures, GlassWire ensures that users have the tools needed to protect their networks effectively.